What do you do when a team doesn't try its best?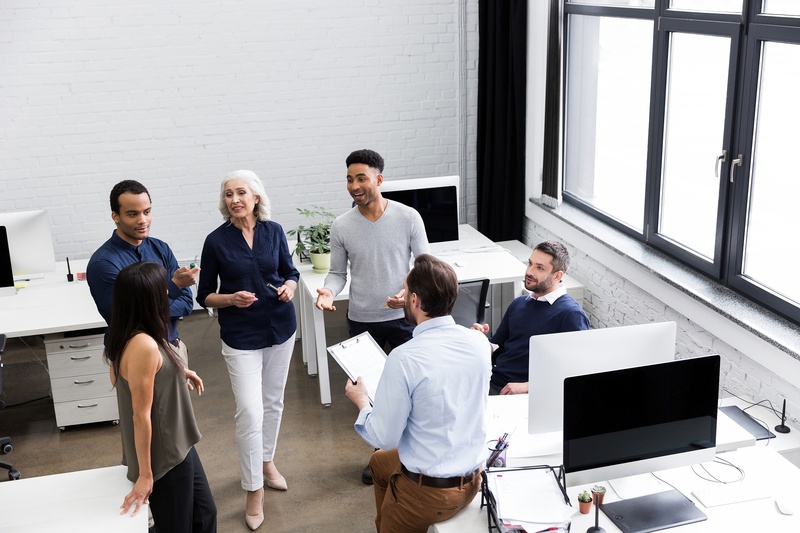 If you are in a supervisory position, your job is to match people with different personalities and abilities. Even if you work alone, sometimes you have to deal with freelancers.
You may have different goals, but one thing is certain. A weak link can cause serious problems in the work process and even undermine the productivity of all employees, because if employees see a lazy person in the workplace and the fact that he also gets paid like them, certainly their motivation to work can drop to zero.
There are some ways to deal with such unpleasant situations.
1. Notice the problem before it becomes serious
As we all know, the best fight is the one that didn't happen. When developing a project, you need to understand that there are no problems on your end and you've done everything you can to ensure that the workflow is perfectly aligned.

Know the workload of your workers. Before you put any worker on a project, find out what their schedule is and what they're doing at the moment.
Set specific goals and show your employees what you expect of them. You need to eliminate confusion in the workflow.
Try to eliminate all undesirable factors. Ask about what your employees don't like and what hinders them. For example, if they are using outdated equipment, address the problem.
Divide big goals into smaller tasks. This will help keep workers motivated and make them work faster.
Set reasonable deadlines for completing the task. If you give a task at the end of the work day, don't demand it completed at the beginning of the next work day. This is unreasonable and unfair to the worker. Try to control which elements your workers focus on.
2. Don't judge prematurely
What if you have done everything according to the instructions and followed all the right steps, but still nothing works? Instead of judging prematurely and losing your cool, try to get to the root of the problem.

Don't judge your employees right away. Don't think that they are lazy, or don't want to do something because they treat you negatively. In fact, they may just have some problems in life, and an indicator of your professionalism will be a desire to learn about their problem and do everything to help your employees.
Try to take some functions off of your employee. Sometimes they have to deal with time management or prioritization issues.
That said, don't let other people's problems interfere with your personal workflow. Only take on things that won't seriously interfere with your functions, and don't complain if you've taken on too much yourself.
3. don't let them interfere with your productivity
Of course, if you're a manager, it's easier to notice someone else's shortcomings in their work than in your own, but you still need to concentrate on your tasks.

You can't control how other people behave or work. You can only react and communicate your reactions or criticisms to these people. Sometimes just try to calm down and not let reactions cloud your cold reasoning.
Sometimes you just need to let your partner handle some tasks on his or her own and look at the end result already. Sure, sometimes you may be pissed off by his ways of working, but are your nerves worth it?
4. Don't forget to offer help
Did you manage to get to the top and stay on top? If so, help others. Don't do their job for them, just push them on the right path.

The right recommendation, advice, and motivation is already a great way to improve an employee's work performance.
Maybe you can help with some very small tasks that would not be a big deal to you, but could be a big help to the employee? Tell your colleague how to properly prioritize and allocate his time. Teach him how to conduct business meetings, and then you'll never have to go back to petty problems again.
Try not to do it all the time. It can make the employee relax if every problem is handled by you.
5. Brook's Law
The law in general tells us that if you are already behind schedule and decide to hire a new employee, chances are your turnaround time will only increase, not decrease.

The whole point is that when a new person joins your team, you have to bring them up to speed, train them in your methods, get them used to interacting with the new employee, and help them fit in.
What is the optimal size for the team? There is no single answer, but most often teams range from six to eleven people.
6. Changing Responsibilities
Sometimes this isn't the best option because it may seem hard on your employees, but it's worth at least trying to give them this opportunity. It will allow them to look at your company's values from a different angle, and if they fail, there will be room for learning from mistakes.

They can learn to use their best aspects or find some new way to solve old problems. It's also a good way for the employee to try on someone else's skin and understand aspects of someone else's job.
7. Find out what it takes to motivate your employees
There are different types of people and all of them have their own way of relating to the work process and to the rules imposed from their bosses.

One person may respond perfectly to schedules, and clearly follow the prescribed directions and instructions, while another will question the rules and try to develop their own approach by modifying what they already know. A third type may act rebellious forever, and do the opposite of what they are told. There are also people who do not listen to their inner voice and will do only what you tell them, without showing the slightest bit of creativity in the choice of their actions.
How is it possible to determine the type of person? You can understand his character only if you talk to him a sufficient amount of time, and after communication you can try to use your knowledge in work with him.
If you understand that the person has a rebellious character, then shouting at him and trying to use your authority is unlikely to lead to anything good. He just won't think that your qualifications are better than his. Instead, try to give them more freedom to choose their own way of working. Perhaps he's not happy with the salary? Discuss the reasons for his rebellious mood.
8. Develop with the team
Don't forget that you should always rise to the occasion and lead your fellows. Invite your team to participate in a seminar or other training session together. Even if this doesn't bring you any new knowledge, at least you'll bond as a team and this will help you work more effectively.
Was this article helpful?
5
Posted by:
👨 David A. Hill